---
Byte-sized entertainment
The Gif TV is a small phone stand and app that plays a nonstop stream of your favorite gifs. BYOP - Bring your own phone and instantly have a mini-distraction machine.
Thank you!
Thanks for signing up for the Gif TV mailing list. We'll be in touch as new things happen for Gif TV. You can also follow up on Twitter at @a_Gif_TV for even quicker updates.

Have a great day.
– The LunarLincoln Team
Phone Sizes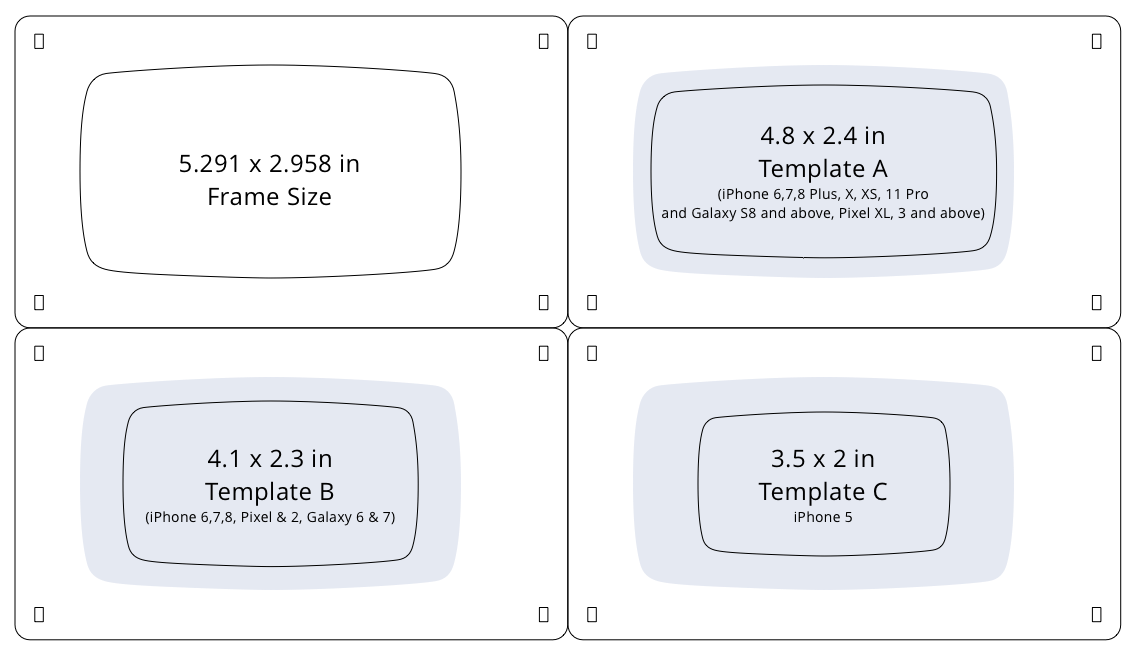 We've designed the full viewport of the Gif TV stand to support most current flagship phones.

Additionally we have three frame inserts that will mask your screen for smaller phone sizes.

The Gif TV is not designed to accommodate phablets, tablets, or large format devices.

If you have any further questions about phone sizing, feel free to reach out at info@giftv.co
Last updated May 05, 2020

Thank you for choosing to be part of our community at LunarLincoln, LLC ("Company", "we", "us", or "our"). We are committed to protecting your personal information and your right to privacy. If you have any questions or concerns about our policy, or our practices with regards to your personal information, please contact us at info@giftv.co.

When you visit our mobile application, and use our services, you trust us with your personal information. We take your privacy very seriously. In this privacy policy, we seek to explain to you in the clearest way possible what information we collect, how we use it and what rights you have in relation to it. We hope you take some time to read through it carefully, as it is important. If there are any terms in this privacy policy that you do not agree with, please discontinue use of our Apps and our services.

This privacy policy applies to all information collected through our mobile application, ("Apps"), and/or any related services, sales, marketing or events (we refer to them collectively in this privacy policy as the "Services").

Please read this privacy policy carefully as it will help you make informed decisions about sharing your personal information with us.

1. WHAT INFORMATION DO WE COLLECT?
Personal information you disclose to us
In Short: We collect personal information that you provide to us.

We collect personal information that you voluntarily provide to us when registering at the Apps, expressing an interest in obtaining information about us or our products and services, when participating in activities on the Apps or otherwise contacting us.

The personal information that we collect depends on the context of your interactions with us and the Apps, the choices you make and the products and features you use. The personal information we collect can include the following:

Publicly Available Personal Information. We collect email addresses; and other similar data.

Personal Information Provided by You. We collect app usage; and other similar data.

All personal information that you provide to us must be true, complete and accurate, and you must notify us of any changes to such personal information.

Information automatically collected

In Short: Some information — such as IP address and/or browser and device characteristics — is collected automatically when you visit our Apps.

We automatically collect certain information when you visit, use or navigate the Apps. This information does not reveal your specific identity (like your name or contact information) but may include device and usage information, such as your IP address, browser and device characteristics, operating system, language preferences, referring URLs, device name, country, location, information about how and when you use our Apps and other technical information. This information is primarily needed to maintain the security and operation of our Apps, and for our internal analytics and reporting purposes.

Information collected through our Apps

In Short: We may collect information regarding your mobile device, push notifications, when you use our apps.

If you use our Apps, we may also collect the following information:

Mobile Device Data. We may automatically collect device information (such as your mobile device ID, model and manufacturer), operating system, version information and IP address.

Push Notifications. We may request to send you push notifications regarding your account or the mobile application. If you wish to opt-out from receiving these types of communications, you may turn them off in your device's settings.

2. HOW DO WE USE YOUR INFORMATION?

In Short: We process your information for purposes based on legitimate business interests, the fulfillment of our contract with you, compliance with our legal obligations, and/or your consent.

We use personal information collected via our Apps for a variety of business purposes described below. We process your personal information for these purposes in reliance on our legitimate business interests, in order to enter into or perform a contract with you, with your consent, and/or for compliance with our legal obligations. We indicate the specific processing grounds we rely on next to each purpose listed below.

We use the information we collect or receive:

To facilitate account creation and logon process. If you choose to link your account with us to a third party account (such as your Google or Facebook account), we use the information you allowed us to collect from those third parties to facilitate account creation and logon process for the performance of the contract.

To send you marketing and promotional communications. We and/or our third party marketing partners may use the personal information you send to us for our marketing purposes, if this is in accordance with your marketing preferences. You can opt-out of our marketing emails at any time (see the "WHAT ARE YOUR PRIVACY RIGHTS" below).

To send administrative information to you. We may use your personal information to send you product, service and new feature information and/or information about changes to our terms, conditions, and policies.

To manage user accounts. We may use your information for the purposes of managing our account and keeping it in working order.

3. WILL YOUR INFORMATION BE SHARED WITH ANYONE?

In Short: We only share information with your consent, to comply with laws, to provide you with services, to protect your rights, or to fulfill business obligations.

We may process or share data based on the following legal basis:
Consent: We may process your data if you have given us specific consent to use your personal information in a specific purpose.

Legitimate Interests: We may process your data when it is reasonably necessary to achieve our legitimate business interests.

Performance of a Contract: Where we have entered into a contract with you, we may process your personal information to fulfill the terms of our contract.

Legal Obligations: We may disclose your information where we are legally required to do so in order to comply with applicable law, governmental requests, a judicial proceeding, court order, or legal process, such as in response to a court order or a subpoena (including in response to public authorities to meet national security or law enforcement requirements).

Vital Interests: We may disclose your information where we believe it is necessary to investigate, prevent, or take action regarding potential violations of our policies, suspected fraud, situations involving potential threats to the safety of any person and illegal activities, or as evidence in litigation in which we are involved.
More specifically, we may need to process your data or share your personal information in the following situations:

Vendors, Consultants and Other Third-Party Service Providers. We may share your data with third party vendors, service providers, contractors or agents who perform services for us or on our behalf and require access to such information to do that work. Examples include: payment processing, data analysis, email delivery, hosting services, customer service and marketing efforts. We may allow selected third parties to use tracking technology on the Apps, which will enable them to collect data about how you interact with the Apps over time. This information may be used to, among other things, analyze and track data, determine the popularity of certain content and better understand online activity. Unless described in this Policy, we do not share, sell, rent or trade any of your information with third parties for their promotional purposes.

Business Transfers. We may share or transfer your information in connection with, or during negotiations of, any merger, sale of company assets, financing, or acquisition of all or a portion of our business to another company.

Third-Party Advertisers. We may use third-party advertising companies to serve ads when you visit the Apps. These companies may use information about your visits to our Website(s) and other websites that are contained in web cookies and other tracking technologies in order to provide advertisements about goods and services of interest to you.

4. HOW LONG DO WE KEEP YOUR INFORMATION?

In Short: We keep your information for as long as necessary to fulfill the purposes outlined in this privacy policy unless otherwise required by law.

We will only keep your personal information for as long as it is necessary for the purposes set out in this privacy policy, unless a longer retention period is required or permitted by law (such as tax, accounting or other legal requirements). No purpose in this policy will require us keeping your personal information for longer than the period of time in which users have an account with us.

When we have no ongoing legitimate business need to process your personal information, we will either delete or anonymize it, or, if this is not possible (for example, because your personal information has been stored in backup archives), then we will securely store your personal information and isolate it from any further processing until deletion is possible.

5. DO WE COLLECT INFORMATION FROM MINORS?

In Short: We do not knowingly collect data from or market to children under 18 years of age.

We do not knowingly solicit data from or market to children under 18 years of age. By using the Apps, you represent that you are at least 18 or that you are the parent or guardian of such a minor and consent to such minor dependent's use of the Apps. If we learn that personal information from users less than 18 years of age has been collected, we will deactivate the account and take reasonable measures to promptly delete such data from our records. If you become aware of any data we have collected from children under age 18, please contact us at info@giftv.co.

6. WHAT ARE YOUR PRIVACY RIGHTS?

In Short: You may review, change, or terminate your account at any time.

If you are resident in the European Economic Area and you believe we are unlawfully processing your personal information, you also have the right to complain to your local data protection supervisory authority. You can find their contact details here: http://ec.europa.eu/justice/data-protection/bodies/authorities/index_en.htm.

If you have questions or comments about your privacy rights, you may email us at info@giftv.co.

Account Information
If you would at any time like to review or change the information in your account or terminate your account, you can:

■ Log into your account settings and update your user account.

Upon your request to terminate your account, we will deactivate or delete your account and information from our active databases. However, some information may be retained in our files to prevent fraud, troubleshoot problems, assist with any investigations, enforce our Terms of Use and/or comply with legal requirements.

Opting out of email marketing: You can unsubscribe from our marketing email list at any time by clicking on the unsubscribe link in the emails that we send or by contacting us using the details provided below. You will then be removed from the marketing email list – however, we will still need to send you service-related emails that are necessary for the administration and use of your account. To otherwise opt-out, you may:

■ Contact us using the contact information provided.

7. CONTROLS FOR DO-NOT-TRACK FEATURES

Most web browsers and some mobile operating systems and mobile applications include a Do-Not-Track ("DNT") feature or setting you can activate to signal your privacy preference not to have data about your online browsing activities monitored and collected. No uniform technology standard for recognizing and implementing DNT signals has been finalized. As such, we do not currently respond to DNT browser signals or any other mechanism that automatically communicates your choice not to be tracked online. If a standard for online tracking is adopted that we must follow in the future, we will inform you about that practice in a revised version of this privacy policy.

8. DO CALIFORNIA RESIDENTS HAVE SPECIFIC PRIVACY RIGHTS?

In Short: Yes, if you are a resident of California, you are granted specific rights regarding access to your personal information.

California Civil Code Section 1798.83, also known as the "Shine The Light" law, permits our users who are California residents to request and obtain from us, once a year and free of charge, information about categories of personal information (if any) we disclosed to third parties for direct marketing purposes and the names and addresses of all third parties with which we shared personal information in the immediately preceding calendar year. If you are a California resident and would like to make such a request, please submit your request in writing to us using the contact information provided below.

If you are under 18 years of age, reside in California, and have a registered account with the Apps, you have the right to request removal of unwanted data that you publicly post on the Apps. To request removal of such data, please contact us using the contact information provided below, and include the email address associated with your account and a statement that you reside in California. We will make sure the data is not publicly displayed on the Apps, but please be aware that the data may not be completely or comprehensively removed from our systems.

9. DO WE MAKE UPDATES TO THIS POLICY?

In Short: Yes, we will update this policy as necessary to stay compliant with relevant laws.

We may update this privacy policy from time to time. The updated version will be indicated by an updated "Revised" date and the updated version will be effective as soon as it is accessible. If we make material changes to this privacy policy, we may notify you either by prominently posting a notice of such changes or by directly sending you a notification. We encourage you to review this privacy policy frequently to be informed of how we are protecting your information.

10. HOW CAN YOU CONTACT US ABOUT THIS POLICY?

If you have questions or comments about this policy, you may email us at info@giftv.co or by post to:

LunarLincoln, LLC
615 Main Street, Suite B22
Nashville, TN 37206
United States

HOW CAN YOU REVIEW, UPDATE, OR DELETE THE DATA WE COLLECT FROM YOU?

Based on the laws of some countries, you may have the right to request access to the personal information we collect from you, change that information, or delete it in some circumstances. To request to review, update, or delete your personal information, please email us at info@giftv.co. We will respond to your request within 30 days.
Last updated May 05, 2020

Gif TV is licensed to You (End-User) by LunarLincoln, LLC, located at 615 Main Street, Suite B22, Nashville, Tennessee 37206, United States (hereinafter: Licensor), for use only under the terms of this License Agreement.

By downloading the Application from the Apple AppStore, and any update thereto (as permitted by this License Agreement), You indicate that You agree to be bound by all of the terms and conditions of this License Agreement, and that You accept this License Agreement.

The parties of this License Agreement acknowledge that Apple is not a Party to this License Agreement and is not bound by any provisions or obligations with regard to the Application, such as warranty, liability, maintenance and support thereof. LunarLincoln, LLC, not Apple, is solely responsible for the licensed Application and the content thereof.

This License Agreement may not provide for usage rules for the Application that are in conflict with the latest App Store Terms of Service. LunarLincoln, LLC acknowledges that it had the opportunity to review said terms and this License Agreement is not conflicting with them.

All rights not expressly granted to You are reserved.

1. THE APPLICATION

Gif TV (hereinafter: Application) is a piece of software created to provide curated lists and streams of animated gifs. - and customized for Apple mobile devices. It is used to streams channels of animated gifs..

The Application is not tailored to comply with industry-specific regulations (Health Insurance Portability and Accountability Act (HIPAA), Federal Information Security Management Act (FISMA), etc.), so if your interactions would be subjected to such laws, you may not use this Application. You may not use the Application in a way that would violate the Gramm-Leach-Bliley Act (GLBA).

2. SCOPE OF LICENSE

2.1 You are given a non-transferable, non-exclusive, non-sublicensable license to install and use the Licensed Application on any Apple-branded Products that You (End-User) own or control and as permitted by the Usage Rules set forth in this section and the App Store Terms of Service, with the exception that such licensed Application may be accessed and used by other accounts associated with You (End-User, The Purchaser) via Family Sharing or volume purchasing.

2.2 This license will also govern any updates of the Application provided by Licensor that replace, repair, and/or supplement the first Application, unless a separate license is provided for such update in which case the terms of that new license will govern.

2.3 You may not share or make the Application available to third parties (unless to the degree allowed by the Apple Terms and Conditions, and with LunarLincoln, LLC's prior written consent), sell, rent, lend, lease or otherwise redistribute the Application.

2.4 You may not reverse engineer, translate, disassemble, integrate, decompile, integrate, remove, modify, combine, create derivative works or updates of, adapt, or attempt to derive the source code of the Application, or any part thereof (except with LunarLincoln, LLC's prior written consent).

2.5 You may not copy (excluding when expressly authorized by this license and the Usage Rules) or alter the Application or portions thereof. You may create and store copies only on devices that You own or control for backup keeping under the terms of this license, the App Store Terms of Service, and any other terms and conditions that apply to the device or software used. You may not remove any intellectual property notices. You acknowledge that no unauthorized third parties may gain access to these copies at any time.

2.6 Violations of the obligations mentioned above, as well as the attempt of such infringement, may be subject to prosecution and damages.

2.7 Licensor reserves the right to modify the terms and conditions of licensing.

2.8 Nothing in this license should be interpreted to restrict third-party terms. When using the Application, You must ensure that You comply with applicable third-party terms and conditions.

3. TECHNICAL REQUIREMENTS

3.1 Licensor attempts to keep the Application updated so that it complies with modified/new versions of the firmware and new hardware. You are not granted rights to claim such an update.

3.2 You acknowledge that it is Your responsibility to confirm and determine that the app end-user device on which You intend to use the Application satisfies the technical specifications mentioned above.

3.3 Licensor reserves the right to modify the technical specifications as it sees appropriate at any time.

4. MAINTENANCE AND SUPPORT

4.1 The Licensor is solely responsible for providing any maintenance and support services for this licensed Application. You can reach the Licensor at the email address listed in the App Store Overview for this licensed Application.

4.2 LunarLincoln, LLC and the End-User acknowledge that Apple has no obligation whatsoever to furnish any maintenance and support services with respect to the licensed Application.

5. USE OF DATA

You acknowledge that Licensor will be able to access and adjust Your downloaded licensed Application content and Your personal information, and that Licensor's use of such material and information is subject to Your legal agreements with Licensor and Licensor's privacy policy: https://giftv.co/#privacypolicy.

6. LIABILITY

6.1 Licensor takes no accountability or responsibility for any damages caused due to a breach of duties according to Section 2 of this Agreement. To avoid data loss, You are required to make use of backup functions of the Application to the extent allowed by applicable third-party terms and conditions of use. You are aware that in case of alterations or manipulations of the Application, You will not have access to licensed Application.

7. WARRANTY

7.1 Licensor warrants that the Application is free of spyware, trojan horses, viruses, or any other malware at the time of Your download. Licensor warrants that the Application works as described in the user documentation.

7.2 No warranty is provided for the Application that is not executable on the device, that has been unauthorizedly modified, handled inappropriately or culpably, combined or installed with inappropriate hardware or software, used with inappropriate accessories, regardless if by Yourself or by third parties, or if there are any other reasons outside of LunarLincoln, LLC's sphere of influence that affect the executability of the Application.

7.3 You are required to inspect the Application immediately after installing it and notify LunarLincoln, LLC about issues discovered without delay by e-mail provided in Product Claims. The defect report will be taken into consideration and further investigated if it has been mailed within a period of ninety (90) days after discovery.

7.4 If we confirm that the Application is defective, LunarLincoln, LLC reserves a choice to remedy the situation either by means of solving the defect or substitute delivery.

7.5 In the event of any failure of the Application to conform to any applicable warranty, You may notify the App-Store-Operator, and Your Application purchase price will be refunded to You. To the maximum extent permitted by applicable law, the App-Store-Operator will have no other warranty obligation whatsoever with respect to the App, and any other losses, claims, damages, liabilities, expenses and costs attributable to any negligence to adhere to any warranty.

7.6 If the user is an entrepreneur, any claim based on faults expires after a statutory period of limitation amounting to twelve (12) months after the Application was made available to the user. The statutory periods of limitation given by law apply for users who are consumers.

8. PRODUCT CLAIMS

LunarLincoln, LLC and the End-User acknowledge that LunarLincoln, LLC, and not Apple, is responsible for addressing any claims of the End-User or any third party relating to the licensed Application or the End-User's possession and/or use of that licensed Application, including, but not limited to:

(i) product liability claims;

(ii) any claim that the licensed Application fails to conform to any applicable legal or regulatory requirement; and

(iii) claims arising under consumer protection, privacy, or similar legislation, including in connection with Your Licensed Application's use of the HealthKit and HomeKit.

9. LEGAL COMPLIANCE

You represent and warrant that You are not located in a country that is subject to a U.S. Government embargo, or that has been designated by the U.S. Government as a "terrorist supporting" country; and that You are not listed on any U.S. Government list of prohibited or restricted parties.

10. CONTACT INFORMATION

For general inquiries, complaints, questions or claims concerning the licensed Application, please contact:

__________
615 Main Street
Suite B22
Nashville, TN 37206
United States
info@giftv.co

11. TERMINATION

The license is valid until terminated by LunarLincoln, LLC or by You. Your rights under this license will terminate automatically and without notice from LunarLincoln, LLC if You fail to adhere to any term(s) of this license. Upon License termination, You shall stop all use of the Application, and destroy all copies, full or partial, of the Application.

12. THIRD-PARTY TERMS OF AGREEMENTS AND BENEFICIARY

LunarLincoln, LLC represents and warrants that LunarLincoln, LLC will comply with applicable third-party terms of agreement when using licensed Application.

In Accordance with Section 9 of the "Instructions for Minimum Terms of Developer's End-User License Agreement," Apple and Apple's subsidiaries shall be third-party beneficiaries of this End User License Agreement and - upon Your acceptance of the terms and conditions of this license agreement, Apple will have the right (and will be deemed to have accepted the right) to enforce this End User License Agreement against You as a third-party beneficiary thereof.

13. INTELLECTUAL PROPERTY RIGHTS

LunarLincoln, LLC and the End-User acknowledge that, in the event of any third-party claim that the licensed Application or the End-User's possession and use of that licensed Application infringes on the third party's intellectual property rights, LunarLincoln, LLC, and not Apple, will be solely responsible for the investigation, defense, settlement and discharge or any such intellectual property infringement claims.

14. APPLICABLE LAW

This license agreement is governed by the laws of the State of Tennessee excluding its conflicts of law rules.

15. MISCELLANEOUS

15.1 If any of the terms of this agreement should be or become invalid, the validity of the remaining provisions shall not be affected. Invalid terms will be replaced by valid ones formulated in a way that will achieve the primary purpose.

15.2 Collateral agreements, changes and amendments are only valid if laid down in writing. The preceding clause can only be waived in writing.

Support
Having an issue with the app or stand? Have a feature suggestion? Just want to share your thoughts? You can reach us below.
---
Reporting a Bug
For sharing bugs/issues with the app, it is most helpful if you can include the following details off the bat (otherwise we'll send you an email with these exact same questions).

1. What device and OS you're on e.g. Android Pixel, 10.0.2.
2. What version of the app you're on. (You can find this in the Settings area at the bottom of the screen.)
3. What account you're using e.g. @iluvgifssomuch.
4. What you saw when you encountered the issue vs what you expected.
---

Stand Kit Assembly
Let's get this Gif TV Stand assembled! We've got options - written instructions, image instructions, heck even a stop motion video (although we think the whole process is pretty self explanatory).
---
Instructions
1. Slide stand pins (2) into corresponding holes on the backplate with Gif TV wording facing outward.

2. Slide 2 C-Spacer pieces onto stand pins with opening to the right.

3. Add antenna piece to top pins & legs pieces to the bottom pins.

4. Slide 2 more C-Spacer pieces onto pins with opening to the right.

5. Add faceplate with screen appearing on the left and dials on the right.

6. Carefully slide wide leg supports at an angle into the back of the stand pins

7. Your stand is ready! Just turn on the Gif TV app and slide your phone into the slot on the right to start streaming Gif TV.

Phone Fit Adjustments: If desired, add black paper frame piece for better viewing portal. For smaller phones, slide a phone base spacer into the bottom phone slot.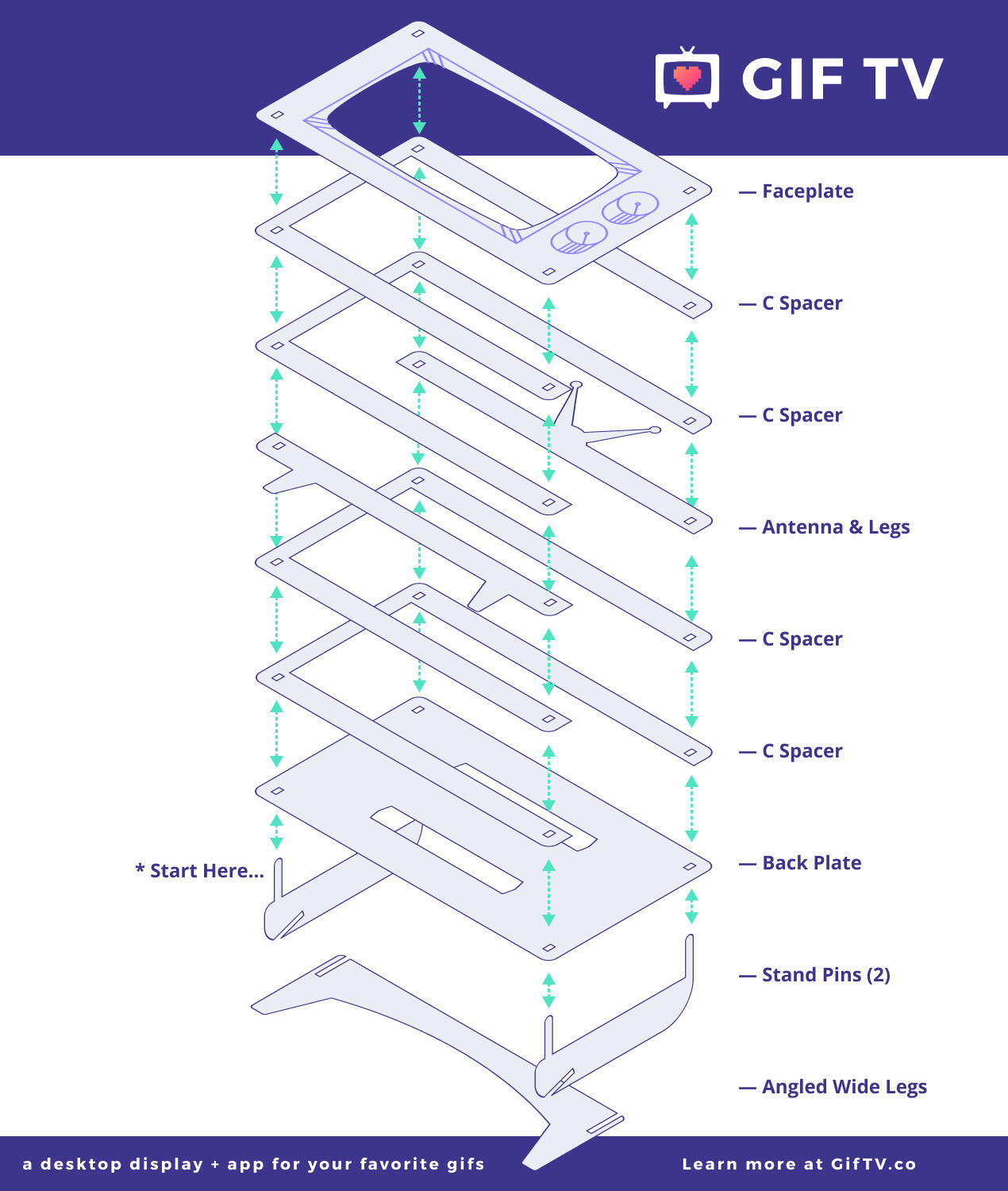 ---
Assembly Video
---